Covid-19 and Local Volunteering efforts
Covid
Covid-19: Some of the voluntary services in and around Ash and New Ash Green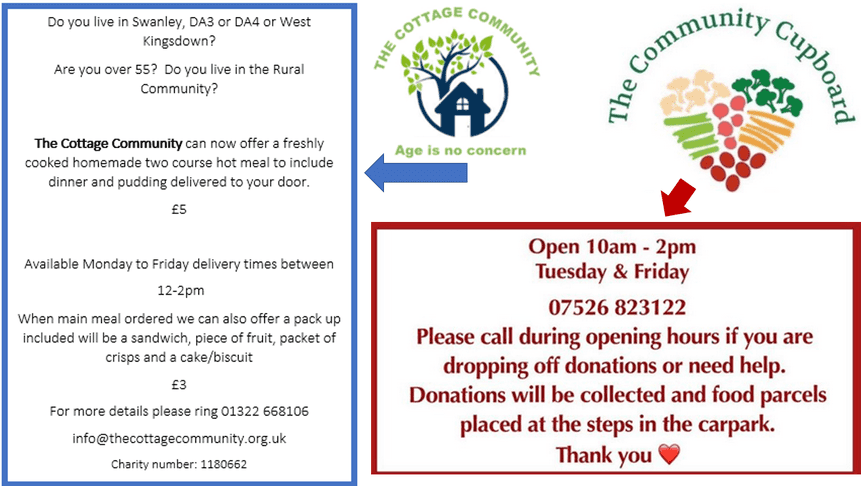 There are a number of local volunteering efforts offering support during the Covid-19 pandemic. Please do get in touch with any of the below either if they could be of help to you, or if you would like to offer help:
The Community Cupboard - our local foodbank. Email: comunitycupboard19@gmail.com and on facebook , the Co-op is still collecting donations. More details in above image (right hand side).
There are a couple of options for reasonably priced delivered meals for older vulnerable people (though you don't have to be all that old!):
The Cottage Community, see above image (left hand side), offers meals to over 55s, and the North West Kent Branch of Age UK also offer a fresh meals service.
Ash Church are, of course, offering both pastoral and prayerful support at this time. Much of the pastoral administration is being coordinated by the Church Wardens John (john.a.harding@btinternet.com) and Ian (ian_nurdin@hotmail.co.uk) as well as, of course, Rev. Helen Reeves (ashandridleyrector@gmail.com), all their phone numbers are here. Thank you also to Helen for the information about meal services.
The District Council itself is running a Volunteering Scheme and you can get in touch with any of the three of us using our widely available contact details (see, for example, the contact section of this website). Our County Councillor David Brazier will also be very happy to hear from you about anything relating to Kent County Council.
Finally, many people will, of course, have directly arranged to support neighbours, friends and relatives. Thank you for doing that, and thank you also for asking for help if you need it at this time.